E-JUNKYARD SALE POST.
PLEASE BE REMINDED THAT MOST OF THE STUFF HERE ARE USED (ie: mounted on walls, opened, etc) AND I HAVE KNOCKED DOWN THE PRICE MORE THAN HALF OF WHAT I PAID FOR.
don't say I didn't warn you and
PLEASE DO NOT COMPLAIN
if you thought you were getting everything in mint condition as if it's just been bought. I consider this as a junkyard sale. Everything's been used, there could be some wear and tear.
POSTERS



MURAKAMI SHINGO OH!HONMANI!BIKKURI TOUR POSTER - USD3.00
- Not in mint condition -- dented parts are circled and enlarged in red.
- NO VISIBLE TEARS. I promise.
- Blu-tac traces on the back of the poster from mounting. though not so bad. can be removed.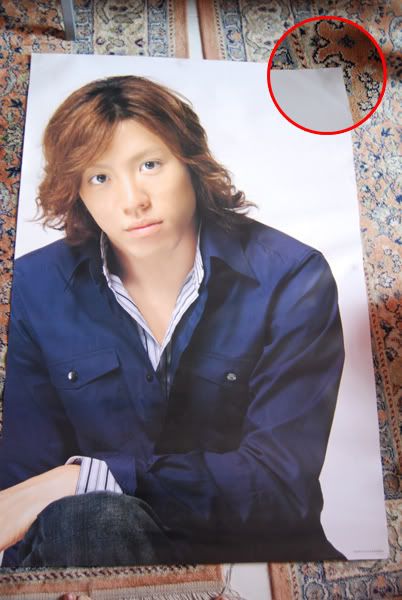 MURAKAMI SHINGO CANTREMEMBERWHICHCON POSTER - USD4.00
- Slight dent
- NO VISIBLE TEARS
- Blu-tac traces.

OFFICIAL PHOTOS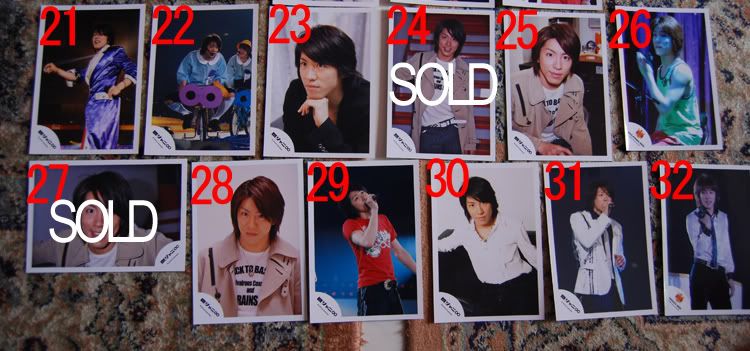 MISC. MURAKAMI SHINGO OFFICAL PHOTOS - USD1.00
- all in mint condition.

FOLDER



MURAKAMI SHINGO - FTON CLEAR FOLDER - USD3.00
- Still in the plastic
- NEVER BEEN TAKEN OUT.

Singles



1. KANFUU FIGHTING LE SINGLE (NO bracelet, slight crack on cover - not too visible) - USD3.00

BOOKS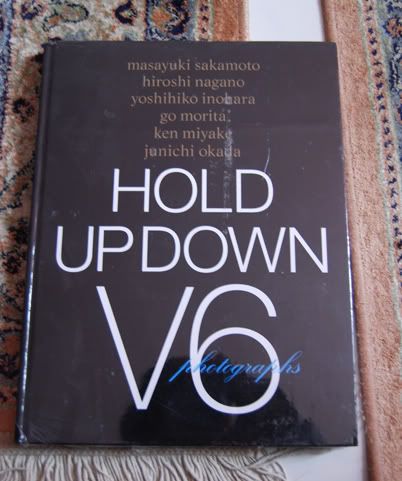 HOLD UP DOWN V6 - USD30.00
- STILL IN ITS ORIGINAL PLASTIC WRAP.
- bought in Kinokuniya Singapore for SGD48.80
PURCHASING DETAILS
- ALL ITEMS ARE QUOTED IN USD.
Please use this currency converter to convert
- All items are shipped from
MALAYSIA
.
-
ONLY SERIOUS BUYERS PLEASE.
No backing out at the last minute. If you have any questions, comment here. If you are serious about buying please e-mail me at
linahalizah.halim @ gmail . com
(omit the spaces)
- FIRST COME FIRST SERVE BASIS.
- Payment methods accepted through
CONCEALED CASH
. I don't have Paypal so don't ask. I WILL ONLY SHIP OUT THE ITEMS AFTER PAYMENT HAS BEEN RECEIVED.
- Malaysian buyers around the Klang Valley area can opt to deposit the money into my bank account or Cash-on-delivery. I can meet you up somewhere to pass the items to you.
- All packages are going to be
registered mail
. For posters, an additional USD5 will be charged for poster tube and registered mail fees. For other items, an additional USD2 will be charged.
- PRICES FOR SHIPPING MAY VARY DEPENDING ON WEIGHT. I will requote the total price after I make a trip to the post office to check the weight.
friends, please, HELP ME PIMP THIS POST XD
I'm getting busier with life. I'm not following many fandoms anymore. So instead of letting the stuff I have collect dust in my small room, I've decided to let it go. We all have to move on eh?